SALARY STATISTICS: AUSTRALIA
---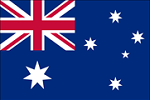 Average salary: Australia
POLLS
2,450
AVERAGE GROSS SALARY
AU$ 96,506
AVERAGE NET SALARY
AU$ 70,546
MOST FREQUENT GROSS
AU$ 52,589
MOST FREQUENT (USD)
US$ 49,993
Salary polls (2,450)
GO TO STATISTICS
How education, experience, age, gender, location, and different careers influence to salaries?



(for Australia, based on 2,450 salaries.)
OR
BROWSE INDIV. SALARIES
Below you can browse among 2,450 indiv. salary examples, for Australia, and see the details of each added salary poll.
INTRODUCTION AUSTRALIA
Australia is among the most valuable places to live around the world. Their unemployment rate was around 5% at the end of year 2011. That is considerably less than in United Kingdom and United States.
Australian economic status is comparatively high. If you are a skilled worker you will earn good money. The employer in Australia normally also has to pay an extra 9%, on top of basic income, into a super fund of individual choice.
Country estimates before the addition of the 9% super, show this average incomes:
Full-time adult ordinary time earnings: $64,650 per year
Full-time adult total earnings: $67,110 per year
Male full-time total earnings: $72,620 per year
Female full-time total earnings: $57,520 per year
SURVEY BY LEVELS AUSTRALIA
| | Salary | USD | Polls | % in level | % earn at least |
| --- | --- | --- | --- | --- | --- |
| Less | AU$ 9,000 | US$ 6,882 | 01 | 0.04 % | 100 % |
| 15K | AU$ 16,000 | US$ 13,930 | 02 | 0.08 % | 99.96 % |
| 25K | AU$ 23,828 | US$ 21,663 | 28 | 1.14 % | 99.88 % |
| 35K | AU$ 33,850 | US$ 31,493 | 100 | 4.08 % | 98.73 % |
| 45K | AU$ 43,875 | US$ 42,103 | 193 | 7.88 % | 94.65 % |
| 55K | AU$ 52,589 | US$ 49,993 | 332 | 13.55 % | 86.78 % |
| 65K | AU$ 62,762 | US$ 59,230 | 272 | 11.10 % | 73.22 % |
| 75K | AU$ 73,375 | US$ 69,720 | 226 | 9.22 % | 62.12 % |
| 85K | AU$ 82,433 | US$ 77,519 | 220 | 8.98 % | 52.90 % |
| 95K | AU$ 92,326 | US$ 86,209 | 140 | 5.71 % | 43.92 % |
| 105K | AU$ 101,109 | US$ 93,061 | 209 | 8.53 % | 38.20 % |
| 115K | AU$ 112,119 | US$ 103,446 | 83 | 3.39 % | 29.67 % |
| 125K | AU$ 121,632 | US$ 111,718 | 143 | 5.84 % | 26.29 % |
| 135K | AU$ 132,095 | US$ 117,363 | 65 | 2.65 % | 20.45 % |
| 145K | AU$ 141,881 | US$ 129,604 | 60 | 2.45 % | 17.80 % |
| 155K | AU$ 150,859 | US$ 131,231 | 86 | 3.51 % | 15.35 % |
| 165K | AU$ 161,391 | US$ 145,640 | 46 | 1.88 % | 11.84 % |
| 175K | AU$ 173,055 | US$ 167,541 | 18 | 0.73 % | 9.96 % |
| 185K | AU$ 181,180 | US$ 161,512 | 42 | 1.71 % | 9.22 % |
| 195K | AU$ 192,222 | US$ 153,979 | 09 | 0.37 % | 7.51 % |
| 205K | AU$ 200,500 | US$ 175,838 | 56 | 2.29 % | 7.14 % |
| More | AU$ 274,737 | US$ 242,157 | 119 | 4.86 % | 4.86 % |
SURVEY BY YEARS AUSTRALIA
SURVEY BY GENDER AUSTRALIA
SURVEY BY EDUCATION AUSTRALIA
| | Salary | USD | Polls |
| --- | --- | --- | --- |
| Doctorate Degree | AU$ 134,741 | US$ 118,090 | 91 |
| Masters Degree | AU$ 115,369 | US$ 105,055 | 572 |
| Bachelors Degree | AU$ 95,210 | US$ 87,630 | 1,150 |
| Some College | AU$ 82,846 | US$ 77,220 | 357 |
| High School | AU$ 69,237 | US$ 63,984 | 243 |
| Bellow H. School | AU$ 62,044 | US$ 54,787 | 37 |
SURVEY BY EXPERIENCE AUSTRALIA
| | Salary | USD | Polls |
| --- | --- | --- | --- |
| 20+ Years | AU$ 142,062 | US$ 124,982 | 413 |
| 16-20 Years | AU$ 123,834 | US$ 112,116 | 188 |
| 12-16 Years | AU$ 123,068 | US$ 112,504 | 240 |
| 8-12 Years | AU$ 96,924 | US$ 89,331 | 423 |
| 4-8 Years | AU$ 85,142 | US$ 80,314 | 448 |
| 2-4 Years | AU$ 68,777 | US$ 65,353 | 314 |
| 1-2 Years | AU$ 59,062 | US$ 55,233 | 182 |
| 0-1 Year | AU$ 55,634 | US$ 52,551 | 242 |
SURVEY BY AGES AUSTRALIA
| | Salary | USD | Polls |
| --- | --- | --- | --- |
| More | AU$ 36,783 | US$ 28,303 | 02 |
| 69-74 | AU$ 128,857 | US$ 100,404 | 07 |
| 63-68 | AU$ 116,618 | US$ 105,369 | 14 |
| 57-62 | AU$ 133,235 | US$ 111,769 | 54 |
| 51-56 | AU$ 140,460 | US$ 123,282 | 109 |
| 45-50 | AU$ 133,084 | US$ 115,622 | 215 |
| 39-44 | AU$ 121,922 | US$ 105,633 | 229 |
| 33-38 | AU$ 106,470 | US$ 93,970 | 330 |
| 27-32 | AU$ 86,403 | US$ 78,105 | 422 |
| 22-26 | AU$ 65,135 | US$ 59,389 | 259 |
| 16-21 | AU$ 53,661 | US$ 46,103 | 86 |
| Less | AU$ 66,902 | US$ 56,826 | 08 |
| | AU$ 85,561 | US$ 87,030 | 715 |
SURVEY BY FIELDS AUSTRALIA
| | | | Salary | USD | Polls |
| --- | --- | --- | --- | --- | --- |
| 1. | | Engineers & Technicians V | AU$ 138,905 | US$ 127,576 | 31 |
| 2. | | Management & Business | AU$ 135,074 | US$ 121,330 | 282 |
| 3. | | Engineers & Technicians III | AU$ 123,573 | US$ 123,745 | 23 |
| 4. | | Engineers & Technicians IV | AU$ 114,850 | US$ 108,525 | 40 |
| 5. | | Engineers & Technicians | AU$ 109,308 | US$ 101,783 | 150 |
| 6. | | Finance & Banking | AU$ 109,096 | US$ 99,225 | 118 |
| 7. | | Construction & Labor Workers | AU$ 106,456 | US$ 95,859 | 83 |
| 8. | | Health Care & Medical | AU$ 103,593 | US$ 94,913 | 76 |
| 9. | | Insurance | AU$ 103,099 | US$ 92,486 | 28 |
| 10. | | Human Resources | AU$ 101,920 | US$ 91,209 | 89 |
| 11. | | Organization & Coordination | AU$ 100,828 | US$ 92,533 | 34 |
| 12. | | IT & Telecommunication | AU$ 99,813 | US$ 91,588 | 227 |
| 13. | | Aviation & Shipping | AU$ 97,600 | US$ 91,596 | 27 |
| 14. | | IT & Telecommunication II | AU$ 96,856 | US$ 92,001 | 136 |
| 15. | | Logistics, Road, Railway | AU$ 94,843 | US$ 87,821 | 28 |
| 16. | | Law | AU$ 94,750 | US$ 82,960 | 44 |
| 17. | | Health Care & Medical II | AU$ 92,461 | US$ 83,402 | 62 |
| 18. | | Properties & Real Estates | AU$ 90,736 | US$ 84,407 | 24 |
| 19. | | Marketing, Sales, Purchase | AU$ 86,510 | US$ 79,691 | 119 |
| 20. | | Public Sector | AU$ 85,930 | US$ 78,198 | 44 |
| 21. | | Education & University | AU$ 85,631 | US$ 78,008 | 112 |
| 22. | | Accounting & Administration | AU$ 82,444 | US$ 74,731 | 216 |
| 23. | | Architect Constructions | AU$ 81,560 | US$ 74,849 | 33 |
| 24. | | Media | AU$ 74,167 | US$ 71,615 | 35 |
| 25. | | Customer Services | AU$ 66,327 | US$ 60,184 | 69 |
| 26. | | Salesmen & Saleswomen | AU$ 64,597 | US$ 58,700 | 51 |
| 27. | | Manufacturing & Labor Workers | AU$ 63,745 | US$ 62,279 | 34 |
| 28. | | Hotels & Tourism | AU$ 63,039 | US$ 58,485 | 31 |
| 29. | | Making Design | AU$ 58,495 | US$ 55,341 | 36 |
| 30. | | Restaurants, Inns, Pubs | AU$ 49,212 | US$ 47,026 | 64 |
SURVEY BY CAREERS AUSTRALIA
| | | Salary | USD | Polls |
| --- | --- | --- | --- | --- |
| 1. | Director | AU$ 179,613 | US$ 157,258 | 36 |
| 2. | General Manager | AU$ 176,000 | US$ 156,990 | 49 |
| 3. | Finance Manager | AU$ 146,411 | US$ 123,245 | 17 |
| 4. | Other Engineer Career | AU$ 138,702 | US$ 126,921 | 30 |
| 5. | Human Resources Manager | AU$ 133,794 | US$ 119,727 | 38 |
| 6. | IT Manager | AU$ 128,705 | US$ 111,064 | 30 |
| 7. | IT Project Manager | AU$ 126,351 | US$ 117,075 | 47 |
| 8. | Manager | AU$ 122,404 | US$ 106,181 | 42 |
| 9. | Marketing Manager | AU$ 113,374 | US$ 101,028 | 22 |
| 10. | Lead Developer | AU$ 109,414 | US$ 99,568 | 17 |
| 11. | Project Manager | AU$ 107,268 | US$ 98,347 | 33 |
| 12. | Civil Engineer | AU$ 105,354 | US$ 101,350 | 31 |
| 13. | Lawyer | AU$ 101,333 | US$ 85,395 | 24 |
| 14. | Engineer | AU$ 100,314 | US$ 92,316 | 43 |
| 15. | Audit Manager | AU$ 99,550 | US$ 89,958 | 20 |
| 16. | Chartered Accountant | AU$ 97,893 | US$ 85,473 | 19 |
| 17. | Lecturer | AU$ 96,352 | US$ 90,682 | 17 |
| 18. | Electrical Engineer | AU$ 95,803 | US$ 89,253 | 23 |
| 19. | Other Medical Career | AU$ 89,164 | US$ 81,996 | 25 |
| 20. | Mechanical Engineer | AU$ 89,127 | US$ 85,610 | 21 |
| 21. | Financial Analyst | AU$ 85,809 | US$ 80,154 | 22 |
| 22. | Other Public Sector Career | AU$ 85,239 | US$ 77,162 | 26 |
| 23. | Software Developer | AU$ 82,864 | US$ 75,271 | 37 |
| 24. | Architect | AU$ 80,214 | US$ 72,365 | 21 |
| 25. | Registered Nurse | AU$ 78,346 | US$ 76,460 | 17 |
| 26. | Accountant | AU$ 77,925 | US$ 70,750 | 35 |
| 27. | Customer Service Manager | AU$ 72,032 | US$ 70,674 | 25 |
| 28. | Teacher | AU$ 67,389 | US$ 58,180 | 19 |
| 29. | Salesmen or Saleswomen | AU$ 60,484 | US$ 56,915 | 17 |
| 30. | Cook | AU$ 51,405 | US$ 52,170 | 24 |
SURVEY BY WORK AUSTRALIA
SURVEY BY CITIES AUSTRALIA
| | | Salary | USD | Polls |
| --- | --- | --- | --- | --- |
| 1. | Toowoomba | AU$ 114,811 | US$ 96,803 | 07 |
| 2. | Perth | AU$ 102,386 | US$ 96,731 | 328 |
| 3. | Sydney | AU$ 101,944 | US$ 93,467 | 743 |
| 4. | Launceston | AU$ 101,362 | US$ 82,462 | 12 |
| 5. | Wollongong | AU$ 101,352 | US$ 86,100 | 16 |
| 6. | Brisbane | AU$ 97,881 | US$ 89,331 | 306 |
| 7. | Hobart | AU$ 97,600 | US$ 83,983 | 21 |
| 8. | Geelong | AU$ 96,830 | US$ 89,196 | 15 |
| 9. | Darwin | AU$ 94,367 | US$ 87,295 | 34 |
| 10. | Gold Coast | AU$ 93,698 | US$ 79,607 | 37 |
| 11. | Melbourne | AU$ 91,577 | US$ 84,392 | 555 |
| 12. | Canberra | AU$ 89,210 | US$ 78,594 | 66 |
| 13. | Albury | AU$ 87,356 | US$ 80,280 | 14 |
| 14. | Adelaide | AU$ 85,322 | US$ 80,459 | 156 |
| 15. | Newcastle | AU$ 85,028 | US$ 73,076 | 37 |
| 16. | Sunshine Coast | AU$ 84,597 | US$ 70,641 | 24 |
| 17. | Townsville | AU$ 84,194 | US$ 78,876 | 18 |
| 18. | Cairns | AU$ 78,811 | US$ 67,054 | 16 |
SURVEY BY COUNTRIES AUSTRALIA
| | | | Salary | USD | Polls |
| --- | --- | --- | --- | --- | --- |
| 1. | | | AU$ 96,506 | US$ 88,471 | 2,450 |
| 2. | | United States | US$ 80,679 | US$ 80,679 | 17,490 |
| 3. | | Germany | EUR 62,606 | US$ 78,782 | 1,465 |
| 4. | | United Kingdom | GBP 48,952 | US$ 74,382 | 3,384 |
| 5. | | Hong Kong | HKD 573,896 | US$ 73,909 | 1,509 |
| 6. | | Singapore | SGD 87,920 | US$ 67,851 | 2,653 |
| 7. | | New Zealand | NZ$ 74,297 | US$ 58,687 | 991 |
| 8. | | Mexico | MXN 736,993 | US$ 49,134 | 351 |
| 9. | | Malaysia | MYR 100,275 | US$ 29,453 | 4,829 |
| 10. | | Indonesia | IDR 316,274,529 | US$ 27,785 | 1,286 |
---