Brazil has the 6th largest economy in the world by its nominal GDP and the 8th largest by its PPP (purchasing power parity) in year 2012 according to CIA. The economy is modern, inward oriented, and it's the largest in the Latin America and the 2nd largest in the Western Hemisphere. The Brazilian economy is on of the fastest growing among major economies in the world. Its annual growth is more than 5%. Brazil tend to be the country with the 5th largest economy in the world.
Brazilian labor force is estimated at around 101 million. 71% works in service sector, 19% in the industry sector, and 10% in agriculture.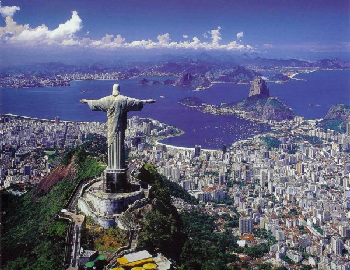 Rio de Janeiro
Main industry
The largest Brazilian industries are machinery, automobile, aircraft, electronics, petrochemicals, mining, constructions, food and Beverage, textiles, and tourism.
The largest companies in Brazil are:
Petrobras (Oil & Gas Operations)
Vale (Mining)
Itaú Unibanco (Banking)
Ambev (Beverage)
Banco Bradesco (Banking)
Banco do Brasil (Banking)
OGX (Oil & Gas Operations)