The economy in Cuba is dominated by the state run enterprises. Most of the production are owned and run by the government. The majority of workers are employed by the state. In the recent years self employment and cooperatives has been encouraged by the Communist Party. Currently ratio between public and private sector is about 24% (private) and 76% (public). In year 1981 this ratio was 8% (private) and 92% (public).
Cubans receive free health care, food subsidies, free education, low housing and transportation costs. Cuba has succeeded in reducing poverty and equalizing the distribution of wealth. Income ratio between richest 10% and poorest 10% is only 4/1. In other Latin America this ratio is 45/1.
The major export partners with Cuba are China 27.5%, Canada 26.9%, Netherlands 11.1%, Spain 4.7%. The main exports are sugar, nickel, fishes, coffee, citrus, medical products, and tobacco.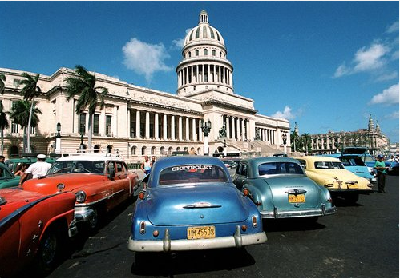 Havana, Cuba