The economy of Israel has rapidly developing high tech and other services sectors. The country reached 24th largest economy in the world in year 2011, and ranked as the most durable economy in the world during the crises. The country ranked first in the world according to research and development investments.
High-Tech Industry
Israel ranks 4th in the world by the number of scientific per million citizens. The country has 135 engineers per 10,000 people. United States has 85 engineers per 10,000 persons for comparison.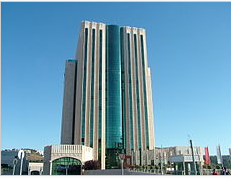 Technology Park in Jerusalem
The largest industries in Israel are high-tech, diamonds, tourism, chemical industry, solar energy, construction, textiles, metal products, and plastics.