SALARY STATISTICS: SOUTH KOREA
---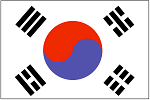 Average salary: South Korea
POLLS
532
AVERAGE GROSS SALARY
KRW 64,037,025
AVERAGE NET SALARY
KRW 52,067,633
MOST FREQUENT GROSS
KRW 28,606,412
MOST FREQUENT (USD)
US$ 25,599
Salary polls (532)
GO TO STATISTICS
How education, experience, age, gender, location, and different careers influence to salaries?



(for South Korea, based on 532 salaries.)
OR
BROWSE INDIV. SALARIES
Below you can browse among 532 indiv. salary examples, for South Korea, and see the details of each added salary poll.
INTRODUCTION SOUTH KOREA
South Korea's economy ranks 15th in the world by it's nominal GDP, and by PPP ranks 12th.
The mayor industries in South Korea are ship building, automobile, and electronics industry. The country is the first producer of ships on the world, including production of oil supertankers. It shares more than 50% of the global shipbuilding industry. South Korea is one of the largest automobile producers in the world. The largest automaker is Hyundai Kia Automotive Group.
The largest companies in South Korea:
Samsung Electronics (Electronics)
Korea Electric Power (Utilities)
Hyundai Motor (Automotive)
Posco (Materials)
Kookmin Bank (Banking)
SK Corp (Oil & gas operations)
LG Electronics (Consumer durables)
Shinhan Financial (Banking)
SURVEY BY LEVELS SOUTH KOREA
| | Salary | USD | Polls | % in level | % earn at least |
| --- | --- | --- | --- | --- | --- |
| | KRW 48,000,000 | US$ 45,258 | 01 | 0.19 % | 58.27 % |
| Less | KRW 5,530,428 | US$ 4,825 | 14 | 2.63 % | 100 % |
| 15K | KRW 17,771,737 | US$ 15,957 | 23 | 4.32 % | 97.37 % |
| 25K | KRW 28,606,412 | US$ 25,599 | 97 | 18.23 % | 93.05 % |
| 35K | KRW 38,454,000 | US$ 34,631 | 88 | 16.54 % | 74.81 % |
| 45K | KRW 49,934,631 | US$ 44,893 | 86 | 16.17 % | 58.08 % |
| 55K | KRW 60,299,920 | US$ 54,276 | 50 | 9.40 % | 41.92 % |
| 65K | KRW 71,036,404 | US$ 64,158 | 34 | 6.39 % | 32.52 % |
| 75K | KRW 82,244,114 | US$ 73,703 | 35 | 6.58 % | 26.13 % |
| 85K | KRW 94,280,000 | US$ 84,625 | 20 | 3.76 % | 19.55 % |
| 95K | KRW 103,287,479 | US$ 93,029 | 32 | 6.02 % | 15.79 % |
| 105K | KRW 118,573,408 | US$ 106,820 | 09 | 1.69 % | 9.77 % |
| 115K | KRW 124,528,400 | US$ 113,322 | 10 | 1.88 % | 8.08 % |
| 125K | KRW 140,096,562 | US$ 124,364 | 04 | 0.75 % | 6.20 % |
| 135K | KRW 150,000,000 | US$ 136,286 | 04 | 0.75 % | 5.45 % |
| 145K | KRW 155,714,400 | US$ 141,362 | 03 | 0.56 % | 4.70 % |
| 155K | KRW 176,000,000 | US$ 155,434 | 02 | 0.38 % | 4.14 % |
| 175K | KRW 196,476,631 | US$ 176,899 | 03 | 0.56 % | 3.76 % |
| 185K | KRW 200,000,000 | US$ 182,071 | 02 | 0.38 % | 3.20 % |
| 195K | KRW 220,000,000 | US$ 199,129 | 01 | 0.19 % | 2.82 % |
| 205K | KRW 238,078,078 | US$ 207,764 | 03 | 0.56 % | 2.63 % |
| More | KRW 305,923,102 | US$ 277,927 | 11 | 2.07 % | 2.07 % |
SURVEY BY YEARS SOUTH KOREA
SURVEY BY GENDER SOUTH KOREA
SURVEY BY EDUCATION SOUTH KOREA
| | Salary | USD | Polls |
| --- | --- | --- | --- |
| Doctorate Degree | KRW 76,291,249 | US$ 68,139 | 40 |
| Masters Degree | KRW 73,213,877 | US$ 65,982 | 155 |
| Bachelors Degree | KRW 61,170,557 | US$ 55,045 | 286 |
| Some College | KRW 53,139,834 | US$ 47,971 | 21 |
| High School | KRW 34,468,494 | US$ 31,232 | 26 |
| Bellow H. School | KRW 40,250,000 | US$ 36,758 | 04 |
SURVEY BY EXPERIENCE SOUTH KOREA
| | Salary | USD | Polls |
| --- | --- | --- | --- |
| 20+ Years | KRW 93,373,397 | US$ 83,285 | 45 |
| 16-20 Years | KRW 118,731,400 | US$ 107,314 | 44 |
| 12-16 Years | KRW 91,477,263 | US$ 82,397 | 51 |
| 8-12 Years | KRW 66,993,410 | US$ 60,337 | 81 |
| 4-8 Years | KRW 55,639,111 | US$ 50,100 | 106 |
| 2-4 Years | KRW 43,435,816 | US$ 39,187 | 83 |
| 1-2 Years | KRW 39,030,652 | US$ 35,067 | 55 |
| 0-1 Year | KRW 43,288,090 | US$ 38,973 | 67 |
SURVEY BY AGES SOUTH KOREA
| | Salary | USD | Polls |
| --- | --- | --- | --- |
| 63-68 | KRW 142,000,000 | US$ 126,989 | 03 |
| 57-62 | KRW 101,250,000 | US$ 91,644 | 04 |
| 51-56 | KRW 108,742,915 | US$ 98,193 | 09 |
| 45-50 | KRW 114,326,807 | US$ 102,086 | 35 |
| 39-44 | KRW 90,219,604 | US$ 81,203 | 71 |
| 33-38 | KRW 60,784,045 | US$ 54,608 | 76 |
| 27-32 | KRW 47,152,820 | US$ 42,338 | 123 |
| 22-26 | KRW 45,450,519 | US$ 40,848 | 49 |
| 16-21 | KRW 43,000,000 | US$ 39,763 | 04 |
| | KRW 57,167,857 | US$ 51,734 | 158 |
SURVEY BY FIELDS SOUTH KOREA
| | | | Salary | USD | Polls |
| --- | --- | --- | --- | --- | --- |
| 1. | | Management & Business | KRW 92,061,097 | US$ 82,802 | 85 |
| 2. | | Finance & Banking | KRW 83,750,000 | US$ 75,182 | 24 |
| 3. | | Engineers & Technicians V | KRW 79,381,869 | US$ 71,762 | 09 |
| 4. | | Architect Constructions | KRW 73,694,846 | US$ 67,328 | 07 |
| 5. | | Health Care & Medical | KRW 75,875,000 | US$ 66,807 | 08 |
| 6. | | Aviation & Shipping | KRW 70,535,800 | US$ 64,424 | 04 |
| 7. | | Public Sector | KRW 69,000,000 | US$ 63,528 | 07 |
| 8. | | IT & Telecommunication | KRW 66,166,145 | US$ 60,101 | 51 |
| 9. | | Hotels & Tourism | KRW 65,080,095 | US$ 58,771 | 09 |
| 10. | | Customer Services | KRW 66,856,800 | US$ 58,649 | 05 |
| 11. | | Automobile | KRW 64,770,000 | US$ 57,598 | 05 |
| 12. | | Engineers & Technicians III | KRW 64,200,000 | US$ 57,046 | 06 |
| 13. | | Salesmen & Saleswomen | KRW 61,794,570 | US$ 55,715 | 17 |
| 14. | | Marketing, Sales, Purchase | KRW 60,890,818 | US$ 54,719 | 48 |
| 15. | | Engineers & Technicians IV | KRW 60,250,000 | US$ 53,503 | 04 |
| 16. | | Human Resources | KRW 56,048,835 | US$ 50,490 | 21 |
| 17. | | Logistics, Road, Railway | KRW 55,352,000 | US$ 49,262 | 05 |
| 18. | | Education & University | KRW 54,703,547 | US$ 49,094 | 57 |
| 19. | | Engineers & Technicians | KRW 54,507,380 | US$ 49,016 | 51 |
| 20. | | Accounting & Administration | KRW 54,037,037 | US$ 48,766 | 27 |
| 21. | | IT & Telecommunication II | KRW 54,381,250 | US$ 48,466 | 16 |
| 22. | | Engineers & Technicians II | KRW 51,308,318 | US$ 46,951 | 06 |
| 23. | | Construction & Labor Workers | KRW 50,200,000 | US$ 45,529 | 08 |
| 24. | | Making Design | KRW 48,666,666 | US$ 44,050 | 03 |
| 25. | | Media | KRW 47,750,000 | US$ 43,948 | 04 |
| 26. | | Health Care & Medical II | KRW 46,999,998 | US$ 41,898 | 10 |
| 27. | | Manufacturing & Labor Workers | KRW 31,708,000 | US$ 28,149 | 12 |
| 28. | | Restaurants, Inns, Pubs | KRW 30,346,215 | US$ 27,480 | 06 |
| 29. | | Organization & Coordination | KRW 24,980,000 | US$ 21,935 | 05 |
| 30. | | Arts, Culture, Performance | KRW 23,500,000 | US$ 20,715 | 04 |
SURVEY BY CAREERS SOUTH KOREA
| | | Salary | USD | Polls |
| --- | --- | --- | --- | --- |
| 1. | Director | KRW 191,369,464 | US$ 173,104 | 07 |
| 2. | General Manager | KRW 171,474,806 | US$ 154,359 | 12 |
| 3. | CEO | KRW 87,392,968 | US$ 78,998 | 05 |
| 4. | Project Manager | KRW 85,666,666 | US$ 76,718 | 06 |
| 5. | Other Sales Career | KRW 84,285,979 | US$ 75,243 | 05 |
| 6. | Finance Manager | KRW 84,500,000 | US$ 74,058 | 06 |
| 7. | Software Developer | KRW 80,285,333 | US$ 72,828 | 21 |
| 8. | University Professor | KRW 80,966,666 | US$ 72,357 | 12 |
| 9. | Other Engineer Career | KRW 79,381,869 | US$ 71,762 | 09 |
| 10. | IT Manager | KRW 78,500,000 | US$ 70,834 | 08 |
| 11. | Marketing Manager | KRW 76,298,130 | US$ 67,720 | 06 |
| 12. | Other Public Sector Career | KRW 71,333,333 | US$ 65,723 | 06 |
| 13. | Business Development Manager | KRW 71,460,000 | US$ 64,520 | 07 |
| 14. | Engineering Manager | KRW 70,833,333 | US$ 63,788 | 06 |
| 15. | Sales Manager | KRW 69,421,815 | US$ 62,890 | 10 |
| 16. | Research Engineer | KRW 67,000,000 | US$ 60,361 | 06 |
| 17. | Manager | KRW 64,178,969 | US$ 57,046 | 15 |
| 18. | Mechanical Engineer | KRW 57,224,000 | US$ 52,527 | 05 |
| 19. | Human Resources Manager | KRW 58,590,000 | US$ 52,498 | 10 |
| 20. | IT Project Manager | KRW 57,120,000 | US$ 52,351 | 05 |
| 21. | Teacher | KRW 57,330,000 | US$ 52,248 | 10 |
| 22. | Assistant Manager | KRW 48,500,000 | US$ 44,426 | 06 |
| 23. | University Professor Assistant | KRW 49,166,666 | US$ 44,092 | 06 |
| 24. | Human Resource | KRW 46,750,000 | US$ 42,354 | 04 |
| 25. | Electrical Engineer | KRW 47,000,000 | US$ 42,247 | 05 |
| 26. | Engineer | KRW 42,680,820 | US$ 38,192 | 20 |
| 27. | Marketing | KRW 37,848,000 | US$ 34,151 | 05 |
| 28. | C, C++ Developer | KRW 35,625,000 | US$ 32,650 | 04 |
| 29. | Other Management Career | KRW 36,328,000 | US$ 32,300 | 05 |
| 30. | English Teacher | KRW 23,994,333 | US$ 21,558 | 06 |
SURVEY BY WORK SOUTH KOREA
| | Salary | USD | Polls |
| --- | --- | --- | --- |
| Permanent | KRW 65,962,794 | US$ 59,390 | 423 |
| Contract | KRW 54,977,515 | US$ 49,302 | 86 |
| Self Employed | KRW 98,049,200 | US$ 88,570 | 10 |
| Part Time | KRW 35,144,407 | US$ 31,876 | 13 |
SURVEY BY CITIES SOUTH KOREA
| | | Salary | USD | Polls |
| --- | --- | --- | --- | --- |
| 1. | Incheon | KRW 70,267,563 | US$ 63,173 | 11 |
| 2. | Seongnam | KRW 66,250,000 | US$ 59,892 | 08 |
| 3. | Seoul | KRW 66,129,861 | US$ 59,552 | 400 |
| 4. | Suwon | KRW 62,983,476 | US$ 56,339 | 32 |
| 5. | Ulsan | KRW 61,666,666 | US$ 53,009 | 03 |
| 6. | Daejeon | KRW 59,072,166 | US$ 52,399 | 12 |
| 7. | Busan | KRW 56,391,638 | US$ 50,899 | 27 |
| 8. | Changwon | KRW 49,570,000 | US$ 44,638 | 10 |
| 9. | Gwangju | KRW 47,443,000 | US$ 42,997 | 08 |
| 10. | Daegu | KRW 42,100,000 | US$ 38,340 | 09 |
SURVEY BY COUNTRIES SOUTH KOREA
| | | | Salary | USD | Polls |
| --- | --- | --- | --- | --- | --- |
| 1. | | Switzerland | CHF 115,563 | US$ 123,261 | 770 |
| 2. | | Norway | NOK 638,149 | US$ 88,710 | 653 |
| 3. | | Australia | AU$ 96,453 | US$ 88,445 | 2,447 |
| 4. | | United States | US$ 80,674 | US$ 80,674 | 17,482 |
| 5. | | Germany | EUR 62,616 | US$ 78,802 | 1,461 |
| 6. | | United Kingdom | GBP 48,945 | US$ 74,382 | 3,380 |
| 7. | | France | EUR 58,752 | US$ 73,096 | 770 |
| 8. | | Canada | CA$ 75,672 | US$ 70,855 | 4,167 |
| 9. | | Finland | EUR 55,269 | US$ 69,549 | 314 |
| 10. | | Italy | EUR 53,984 | US$ 68,152 | 769 |
| 11. | | | KRW 64,037,025 | US$ 57,635 | 532 |
| 12. | | Mexico | MXN 736,993 | US$ 49,134 | 351 |
| 13. | | Slovenia | EUR 33,789 | US$ 43,273 | 205 |
| 14. | | Croatia | HRK 194,480 | US$ 32,126 | 310 |
| 15. | | Malaysia | MYR 100,289 | US$ 29,458 | 4,828 |
| 16. | | India | INR 1,125,524 | US$ 19,496 | 5,745 |
---