Mexico has the 13th largest economy in the world by its nominal terms and 11th largest by purchasing power as World Bank report shows. GDP in the Mexico was decreased for more than 6% in the 2008 recession and was one of the most affected among Latin American countries.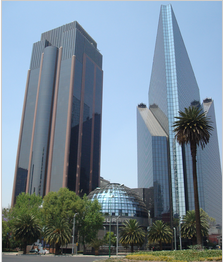 Automotive Industry
Automotive is among the most important industries in the country. It's quality standards are well recognized. Big three General Motors, Ford, and Chrysler have been produced in Mexico since years 1930. In 1960s joined Volkswagen and Nissan. Later joined Honda, Toyota, Mercedes-Benz, and BMW. Mexico is focused to aerospace industry, and helicopter industry as well.
Electronic Industry
In the last decade electronic industry increase was huge. The country has the 6th largest electronics industry in the world after United States, China, Japan, South Korea, and Taiwan. It's export of electronic to the United States was second largest in year 2011. Since year 2008 Mexico is has been third largest manufacturer of computers and mobile phones in the world.
Tourism is very important for the economy in Mexico as well. The country is the eight most visited country in the world, with more than 20 million tourist each year.