Slovenia is a developed country with prosperity and stability. The country adopted the euro on 1 January 2007. It's GDP per capita reached around 91% of the EU average at the end of year 2011.
Slovenian trade highly depends on foreign trade. The most important partners are Germany, Italy, Austria, France, Croatia, and Russia. Foreign investments is growing despite the crisis, and is now more intense than in recent years.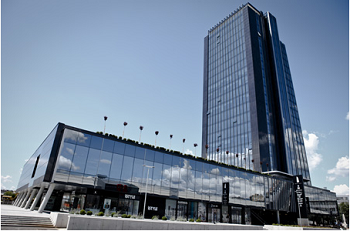 Crystal Palace in Ljubljana
The main industries in Slovenia are Automotive, chemicals & pharmaceuticals, electronics & electrical ICT (Information and Communications Technology), distribution & logistics, machining & metalworking.
The largest companies in Slovenia are:
Petrol d.d. (oil & gas)
Mercator d.d. (retail)
Revoz d.d. (automotive)
Krka d.d. (pharmaceutical)
Zavarovalnica Triglav d.d. (insurance)
HSE d.o.o. (energy)
NLB d.d. (banking)
Engrotuš d.d. (retail & mobile telec.)
Gorenje d.d. (electrical & white goods)
Lek d.d. (pharmaceutical)
and Merkur (retail).